ArkHom: A Millenium Monument Project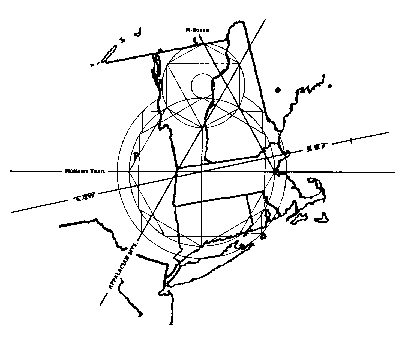 Next: Geometry of the Kaballah on Africa
"ArkHom melds the Arts and GeoSciences and speaks of landscape as a sacred enclosure."
-- Peter Champoux, originator of ArkHom
"ArkHom is based on a geometry inherent throughout nature,
from sunflower to galaxy."
ArkHom
Peter Champoux and Susan Franklin Wilson
ArkHom Points
1. Lake Willoughby, Vermont
Deep Water/ Abnaki/ Mt. Pisgah/ Arctic Flora/ Schist/ Keel/ Spine/ Crown: "Eee" = B/ Violet
2. Topsham, Vermont
Burnahm Mt./ Vista NWE/ Moon point/ Art colony/ Keel, Spine/ Third Eye: "Om" = A/ Blue
3. West Fairlee, Vermont
Ompompanoosuc River/ Piedmont/ Beavers/ 12 tribes/ Keel, Spine/ Social Architecture/ Throat: "EH" = G
4. Mt. Ascutney
1777/ Forks meet/ Granite/ Marquis De Lafayette/ Keel, Spine/ Triangle/ Monadnock/ 3,150'/ Heart: "AH" = F/ Rose
5. Shelbourne Fall, MA
Radius/ Peace Treaty Site/ Deerfield River/ Potholes/ Bridge of Flowers/ Art Center, Park/ Mohawk Trail/ Tower/ Base Line/ Keel, Spine/ Solar Plexus: "AW" = E/ Yellow
6. Barkhampstead Reservoir
Nepaug/ council Caves/ Peoples State Park/ New Hartford/ Spine, Keel/ Belly: "OH" = D/ Orange
7. Derby, CT
Osborndale State Park/ Housatonic and Naugatuck Rivers Confluence/ Environmental Center/ Keel, Spine, Rudder/ Root: "Ooo" = C/ Red
8. Wappingers Falls, MA
Hudson river/ 12 Tribes/ Sandstone, Environmental Center/ Vassar College/ Poughkeepsie/ Bridge
9. Arkville, NY
Catskills/ Vega/ Rip Van Winkle/ comedy/ Sulphur/ Sandstone/ Batavia River/ 12 Tribes
10. Canajoharie, NY
Traditional Mohawk/ Little Big Nose/ Rattlesnake/ American Martyrs/ Revolutionary/ Potholes/ Trade Center/ Beechnut/ Arkel Art/ Gateway/ 12 Tribes/ Peacemaker
11. Oregon, NY
Low Adirondacks/ Gore Mt./ Garnets/ Hemlock/ Deer Town/ Tannery/ 12 Tribes/ South Solstice Set
12. Middlebury, Vermont
Gorge/ college/ Champlain plain/ Robert Frost/ Taconic/ Green Mt./ Lake Dunmore/ Shale/ Fort
13. Sky Pond State Park, NH
Meredith/ Laconia/ Ossipee/ Lake Winnipesaukee/ 12 Tribes/ Merrimac River/ Science Center
14. Epping, NH
Pawtuckway/ Piscassic and Lampray Rivers/ Green/ Pastures/ Mobile Homes/ Glacial erratics/ 12 Tribes
15. Boston, MA
City Hall Plaza/ gateway/ shawmut/ Hexagon/ Revolution/ 12 Tribes/ Telephone invented/ Millerites/ Tea Party/ Baked Beans/ Red Sox/ Celtic Bruins/ Sea Port/ Peacemaker/ Grand Trine
16. Providence, RI
Narraganset/ 12 Tribes/ Roger William Park and Zoo/ Seaport/ Wampum/ King Philip/ Peacemaker
17. New London, CT
Thames River/ Submarines/ Seaport/ Niantics/ 12 Tribes
18. Shelter Island, NY
Montauk/ Oreint Point/ the Hamptons/ Long Island/ Heptagon
19. Wet Point, NY
Virtual forest/ Black Rock Forest/ Storm King/ Hudson River/ Water Gap/ Freedom Road/ Heptagon
20. Cooperstown, NY
Otsego/ Council Rock/ Museums/ Kingfisher Tower/ Headwaters Sesquahana/ Glimmerglaass/ Baseball Hall of Fame/ Leatherstocking/ Equinox Set/ Peacemaker
21. Vanderwacker Mt., NY
High Adirondacks/ Water/ Titanium/ vista/ Heptagon
22. Waitsfield, VT
Mad River/ Heart of Green Mountains/ Camel's Hump/ Sugar Bush/ Hexagon
23. Mt. Mansfield, VT
Sleeping Jane/ Ethan Allen/ cantilevered Rock/ Von Trapp/ Stowe/ Snowflake Bentley/ Taconic Range/ Hexagon
24. Mt. Washington, NH
Highest/ Windiest/ Deadliest/ Coldest/ Presidential/ Lake of the Clouds/ CogRail/ Tuckerman's Ravine/ Trail/ Pennacooks
"The Watcher"
Situated at 44 degrees 10 minutes North, 71 degrees 45 minutes West in Franconia Notch, New Hampshire, near Mount Washington (41 degrees 15 minutes North, 70 degrees 15 minutes West), this profile stands at the latitude of the "Indian Head Rock" and the Oracle of Winnewassa (44 degrees North, 96 degrees West) in Minnesota, and on the Polar Circle with the area of Cu-x-co, the Inca capital of Peru, and "the Great Rajah" in Borneo (Equator 109 degrees East). (If reversed this picture discloses the Ghost of "Spirit Man." "As above so below.") America: the Background of Columbus, by Jennings C. Wise, Monticello Publishers [frontispiece]
25. Woodstock, NH
Grandview Mt./ Elbow Pond/ White Mt./ Permigewasset River/ Moosilauke Park
26. Somersworth, NH
Maine Border/ Salmon Falls/ Cocheco River/ South Solstice Sunrise/ Heptagon
27. Cape Ann, MA
halibut Point/ Art Colony/ Sea Port/ Granite/ Dogtown/ Equinox Sunrise/ Sky, Sea, Stone
28. Middleboro, MA
Massasoit's Seat/ Wampanoag/ route 495/ Myles Standish/ Assawompset Pond/ Nemasket/ Heptagon/ Peacemaker
29. Mt. Wachusetts
Nipmucs/ King Philip/ Old Growth Forest/ Base Line/ Diamond/ Vista/ Thoreau/ Peacemaker
30. Peebles Island State Park, NY
Cohoes/ Mohawk and Hudson Rivers/ Breast-work/ Native Village/ NY Dept History and Parks/ Wild Fruit/ Revolutionary War/ White Shirts/ Mohawk Trail/ Geologic Lens
10 to 15 line
Mohawk Trail> Canajoharie to Boston
1 to 15
Magnetic North
20 to 27
West to East
4 to 24
Appalachian Mt. chain
Mt Washington
Mt Washington Observatory
A private, non-profit organization.
"The World's Strongest Winds," an article in Appalachian Trailway News, September/ October 1996. Call the A.T. Conference at 304-535-6331.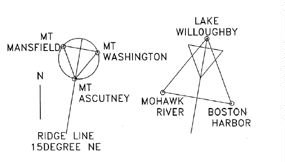 Gaia Matrix book